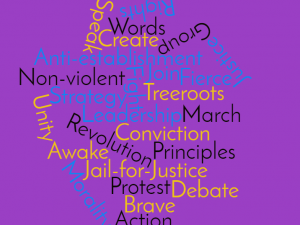 We would love to share your events on this page, as well as on our social media. Please send events to us via email, with appropriate links two weeks or more in advance of the event, if possible. Send to both of these email addresses: duh4us@gmail.com and donnamellington@gmail.com.  

Please include complete details: date, time, location (city AND state), any compliance issues, and costs involved, as well as a way to contact an actual person if we have questions.
To find relevant Event Pages on Facebook, type in one of the following search terms in the FB search bar:  
Medicare For All 




Single-Payer




HR676




Universal Healthcare



After you type in the term, locate and click the Events button at the top. Be careful to note whether it is a current event or one which happened in the past.
You can also use the Events button that comes up on your own FB home page to find social justice events in your area which have been posted by your friends and groups. This is a more searchable forum. You can usually check what is happening in your area by type of event, and date using the calendar.
When we know of large national events, we will be certain to post them here, and will periodically feature notices on our social media that these are upcoming.
​We know there will be many events that occur in a vacuum. Media coverage is unlikely and local calendars of events rarely get noticed. So we must rely on you to let us know of any events we've failed to list. If people will have to make travel and lodging, child care, or time off from work arrangements in order to attend, please give us (and them) enough lead time to make that possible. Spontaneity is great, but not so much when you need a big crowd!
ONGOING

​

REGARDING EVENTS ON OUR PAGE: PLEASE HEAR US CLEARLY ON THIS POINT: Our events list includes events that are ACA friendly. In other words, WE KNOW THAT SOME OF THE EVENTS we have on the list are designed to Save the ACA. THAT IS NOT OUR GOAL.
Our goal is to PROMOTE IMPROVED AND EXPANDED MEDICARE FOR ALL AMERICANS. THERE IS NOTHING THAT SAYS WE CANNOT GO TO AN ACA-FRIENDLY RALLY TO SUPPORT THE GOAL OF PROMOTING AND EXPANDING NATIONAL IMPROVED MEDICARE FOR ALL. WE WOULD SUGGEST THAT WHEN YOU GO TO THESE EVENTS, YOU MAKE YOUR POSITION CRYSTAL CLEAR THROUGH YOUR SIGNAGE AND YOUR GEAR THAT YOU WEAR. THAT IS OUR INTENT.
Events in the first calendar are from our DUH - Demand Universal Healthcare Page.  Following that calendar is another calendar.  Events in the second calendar are from our People Overcoming Politics (POP) page on Facebook.  
DUH - Demand Universal Healthcare

​

​